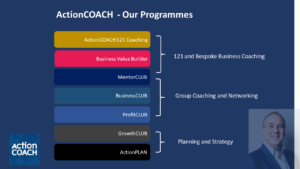 So, How Can We Help You?
Whether you are looking to make more money, find more time, builder  a stronger business or develop a brilliant team, whether you want to commit to intensive support on a 121 basis, or join a group of like-minded business owners, work together or self manage – we have a programme for you. 
One-to-One Business Coaching
This program is for those wanting to quickly build their business and who are committed to putting the work in.  Throughout this program we will either meet face to face, or via video on a weekly basis,  working on the appropriate strategies that will move you and your business forward.
The power in this program is that everything is broken down into bite size manageable chunks that are easy to implement.  This program will create the right habits and disciplines that breed consistent success just like professional sports people.  The time and effort you spend working on developing your business  will have a direct correlation with the results you achieve.
MentorCLUB
MentorCLUB is a small group (limited to four members) Business owner's mastermind group, which combines 1-2-1 style coaching, with short and long term planning, group support, sharing best practice and a commitment to growth through actions.
MentorCLUB enables you to accelerate your business success through world-class  mentoring with other growth-minded, businesses owners, celebrate your successes and learn from the successes and challenges of others.
BusinessCLUB
Business Club is a fortnightly group curriculum programme that builds a strong foundation for business. Backed by a clear goals for each quarter, we look at ALL the key fundamentals of business; finding new customers, managing time, team, and money, sales and marketing.  Our aim is to build a stronger business that requires less of your time and rewards you better.
There are 2o sessions a year, and four full days of goal setting.  The programme helps you to build a plan and monitor your progress against it. You will find the planning, networking and group support will combine to really help you focus on much greater business success.
ProfitCLUB
ProfitCLUB is a fortnightly on-line group programme for one-person or small team businesses that are looking to build a larger and better group of customer.  We focus on  significantly improving profits , better marketing and sales.  Each session picks a business theme that members can then take and apply in their business directly.
We meet fortnightly for an hour  at 8.00am, and four times a year for planning in person.
Building A Business to Sell? 
Value Builder Programme

Our Value Builder Programme is a separate programme of several modules to help you take the actions necessary to maximise the value of your business and the chances of a sale.  This is proven, international programme that has helped many business owners successfully sell at a much better price, or build a business that can function without them, and therefore be able to step back from their business. and achieve a much better price.